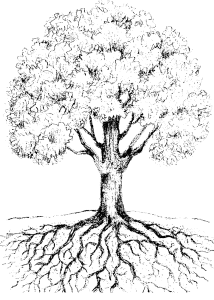 Rooted in Christ to love, grow, and serve.
Job 14:7-9
'For there is hope for a tree, if it is cut down, that it will sprout again, and that its shoots will not cease. Though its root grows old in the earth, and its stump dies in the ground, Yet at the scent of water it will bud and put forth branches like a young plant.'
Growth comes through:
Preparation to do God's work in the word.
Educational opportunities for all ages and for wherever one is on his/her faith journey
Spiritually uplifting worship
Mark 12:31
The second is this, "You shall love your neighbor as yourself." ' There is no other commandment greater than these.'
Love is shown through:
Pastoral care
Caring ministry
Support groups
Fellowship
Matthew 28:19-20
"Go therefore and make disciples of all nations, baptizing them in the name of the Father and of the Son and of the Holy Spirit, and teaching them to obey everything that I have commanded you, and remember I am with you always till the end of the age."
Service is accomplished:
Locally
Youth and family ministry
Support for all members
Outreach to the community
Globally
Salem Lutheran Church will strive to be fertile ground for growth by providing a healthy spiritual atmosphere for all.  We will care and serve others in our own congregation, as well as our community and our world.