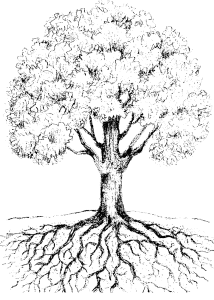 Rooted in Christ to love, grow, and serve.
The gifts he gave…to equip the saints for the work of ministry for building up the body of Christ, until all of us come to the unity of the faith and of the knowledge of the Son of God, to maturity, to the measure of the full stature of Christ…from whom the whole body, joined and knit together by every ligament with which it is equipped, as each part is working properly, promotes the bodies growth in building itself up in love. Ephesians 4:11-16
Children, Youth and Adults equipped and strengthened as disciples of Jesus Christ to use  their God-given gifts in purposeful relational ministry.
Rooted in Christ to LOVE
Jesus answered the first (commandment) is…You shall love the Lord your God with all your heart, and with all your soul, and with all your mind, and with all your strength. The second is this, You shall love your neighbor as yourself. There is no other commandment greater than these. Mark 12:29-31
Worship Ministry
Prayer Ministry
Fellowship Ministry
Pastoral Care Ministry
Rooted in Christ to GROW
For there is hope for a tree, if it is cut down, that it will sprout again, and that its shoots will not cease. Though its root grows old in the earth, and its stump dies in the ground, Yet at the scent of water it will bud and put forth branches like a young plant. Job 14:7-9
Bible Studies
Sunday School
Confirmation and Youth Ministry
Vacation Bible School
Rooted in Christ to SERVE
Go therefore and make disciples of all nations, baptizing them in the name of the Father and of the Son and of the Holy Spirit, and teaching them to obey everything that I have commanded you, and remember I am with you always till the end of the age. Matthew 28:19-20
Lutheran World Relief Quilts and Kits
Wednesday at the Well Community Meal
Longville Area Food Shelf
Lutheran World Hunger
Music in the Park Concerts