Positions Open:
There is always room in Salem's Choir for people who love to sing.  If you sing soprano, alto, tenor or bass, sing in the shower or in the rain, you most likely would like to sing in the choir!
Qualifications:
Must be able to carry musical notes part way across the sanctuary.
Must have sufficient vision to see the director 10 feet away.
Must have a love for music.
Experience:
No application will be accepted from persons who have not sung, hummed, or whistled while in the tub, shower, or with the radio.
View Services

Wages:
Satisfaction and joy in the service of God.
Fringe Benefits:
Social Security—We guarantee you security and social fellowship with other Choir members.
Vacation:
Missed rehearsals or performances and tardiness are a matter of personal conscience and your ability to return the director's glares and pointed remarks.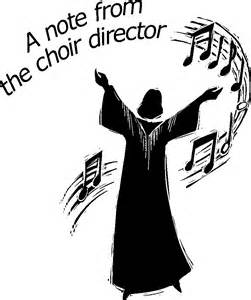 Salem's choir meets on Wednesday evenings at 6:30 with the exception of Lent when we meet on Tuesday evenings. We practice for approximately 1 1/4 hours. I try to keep close to this timing as other organizations meet immediately following choir practice several weeks during the month.
We have a break from mid January until mid March because so many of our members go to warm climates for several months in the winter.
 Salem Lutheran Church Chior
Choir Director Char Olson
Accompanist Jan Elliott
Accompanist Eunice Benson